Live Online Training Course – Wing Chun Takedowns: Principles & Techniques in 4 Lessons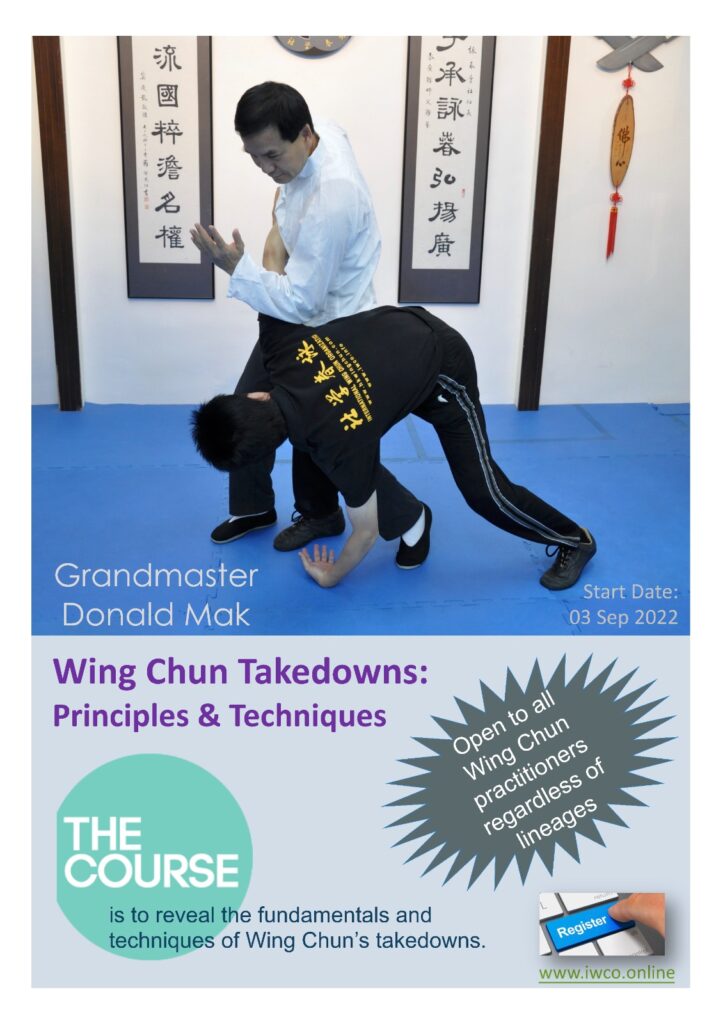 Live Online Training Course Course Title: Wing Chun Takedowns: Principles & Techniques
If destroying your opponent's structure is a main goal of Wing Chun, then takedowns must be one of its ultimate weapons. But are takedowns borrowed from other martial arts or an integral part of the Wing Chun system, as they are not specifically taught in any of the forms? The short answer is that all the skills needed for successful takedowns and leg sweeps are implicitly found in the Wing Chun system. Even the retracting Wu Sao in the first section of the Siu Nim Tau teaches how to absorb an opponent's incoming force and to close the distance needed for takedowns.
Course Outline & Objective
The objective of this course is to reveal the fundamentals and techniques of Wing Chun's takedowns and will cover: l Conditions & elements for effective takedowns l Counter measures on takedown l Practical Wing Chun's takedown techniques Target Group Open to all Wing Chun practitioners regardless of lineages.
Duration of Course This course contains four 1.5-hour lessons.
Lesson 1: 03 Sep 2022, Saturday 1930 – 2100
Lesson 2: 17 Sep 2022, Saturday 1930 – 2100
Lesson 3: 01 Oct 2022, Saturday 1930 – 2100
Lesson 4: 15 Oct 2022, Saturday 1930 – 2100
All dates and times are shown in Hong Kong Standard Time (GMT+8)
• HK$1,990 per person (4 lessons)
• Since takedown techniques need to train in pair, it is highly recommended to join with two persons. A 25% discount will be offered for joining in pair.
• Seven days before the commencement of the course or session, via Bank Transfer OR PayPal. Account details will be provided upon confirmation. The Zoom meeting passcode will be sent upon receipt of payment.
• The total wire amount should be net of any wire fees and handling charges, i.e., please pay all bank wire transfer and other fees.