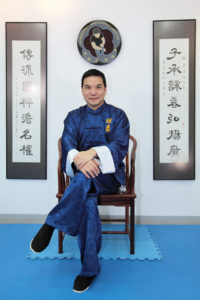 GM Mak was born in 1961, the Year of Ox. He was fortunate enough to have become a student and disciple of Great Grand Master Chow Tze Chuen ( 鄒子傳 ) in 1979. The late Great Grand Master Chow was one of a handful of direct students of Grandmaster Yip Man, the teacher of the late kung fu legend, Bruce Lee.
From 1987, GM Mak began serving as an Instructor in Great Grand Master Chow's Kung Fu school where he helped coach and train his Wing Chun classmates. In 1997, with his master's encouragement and blessing, he started his own Wing Chun school under the name, "Hong Kong Wing Chun Institute", teaching both group and private lessons until the present time. The school's name was later changed to the "International Wing Chun Organization" in 2008 to reflect the global development of the school.
GM Mak's passion for Wing Chun also led him onto a more academic path where he began researching the Wing Chun style, particularly its theories and history. Because of this, he made friends with many Wing Chun masters from different lineages.
GM Mak's reputation for teaching extends far beyond Hong Kong. Since 1998, he has made a point of travelling abroad annually, for about 4 – 10 weeks to teach and offer seminars to students all over the world. To date, he has conducted seminars and trainings in the UK, Russia, France, Italy, Sweden, Denmark, Romania, Spain, Austria, USA, U.A.E, Iran, Israel, Argentina, Mexico, Colombia, Singapore, Kazakhstan, Nepal and China.
In addition to his many years of training and skill development in Wing Chun, GM Mak speaks good English and communicates clearly, both in conceptual and practical terms. As a result, he has long experience and a proven track record of teaching Western students. A select number of foreign students have already graduated under his teaching program and have started teaching his curriculum under the auspices of the "International Wing Chun Organization" (IWCO). The IWCO now has over 100 affiliated schools in 18 countries. To keep standards uniform around the world, he designed a grading and examination system based on his leveled program. GM Mak personally conducts the exams or, in certain cases, designates a qualified examiner.
His expertise in Wing Chun was recognized when he was asked to write articles for the book, "Ip Man Ving Tsun 50th Anniversary," and for other world-class martial arts magazines, such as "Wing Chun Illustrated", "Journal of Chinese Martial Arts", "Blitz", and the "Kung Fu Journal", all of which were widely read and received positively. In 2016, he published his first Wing Chun book "Willow In the Wind – Wing Chun's Soft Approach" as a way of sharing his Wing Chun experience and insights.
In addition to teaching and training, GM Mak has a strong interest in raising the standards of Wing Chun and providing opportunities for students to test their skill levels. Since 2010, together with his associations in Europe, Hong Kong, and China, he has organized a number of international and regional Wing Chun competitions. In 2018, he was invited to be a member of the Jury of Appeals for the "2018 World Wing Chun Open Competition" organized by the International Wushu Federation.
GM Mak also recognizes the entertainment value of Wing Chun and that learning it should be fun. In 2010, he worked on the Wing Chun movie, "The Legend is Born – Ip Man", directed by Herman Yau, as an on-site martial arts consultant.
GM Mak holds an MBA degree from the US (1989) and currently holds the following official titles:
2018 – 2018 World Wing Chun Open Competition – Member of the Jury of Appeals
2018 – Guangdong Wushu Association – Member of the Editorial board for the Guangdong Nan Quan (Wing Chun) Duan Wei Curriculum
2017 – The Global Chinese Martial Artists Federation – Grand Master Level 9th Dan
2016 – United States Martial Arts Association – Regular Life Member
2012 – Chinese Wushu Association – Recognized Wushu (Wing Chun martial arts) Duan System – Examiner
2012 – Chinese Wushu Association – Recognized Wushu (Wing Chun martial arts) Duan System – Instructor
2010 – World Wing Chun Union – Recognized Competition Referee
2009 – World Wing Chun Union – Vice Chairman
2009 – Hong Kong Wing Chun Union – Vice Chairman
2009 – Wushu Research Team of General Administration of Sport of China – Members of the Editorial board for Chinese Wushu (Wing Chun) Duan Wei Curriculum
2008 – United States Martial Arts Association – 8th Dan (Master) – Wing Chun Kung Fu
2008 – Chinese Wushu Association – 7th Duan of Chinese Wushu Duan Wei System
2007 – Chartered Institute of Environmental Health, U.K – Professional Trainer Certificate
2007 – Occupational Safety & Health Council – Training Certificate in Occupational Safety Management
2006 – Hong Kong Muay Thai Association – Recognized Referee and Judge
2005 – Hong Kong Chinese Martial Arts Association Limited, Permanent Member
2005 – World Ving Tsun Athletic Association – Founding Member
2004 – Ving Tsun Athletic Association – Recognized Instructor
2004 – World Organization of Wu Shu Kung-fu Masters – Eighth Level Master
2001 – Great Grand Master Chow Tze Chuen of Wing Chun Chuen Kwoon – Recognized Sifu
1991 – Ving Tsun Athletic Association – Permanent Member